Download
Get the best free antivirus for all your devices
Bitdefender
Antivirus Free Edition
Una protezione potente ma leggera
We make the Internet safe for you. You can be sure all threats
are taken care of when you browse the web. We use advanced
technologies such as machine learning to protect you from
phishing and other types of fraudulent content.
Get Free Antivirus for Windows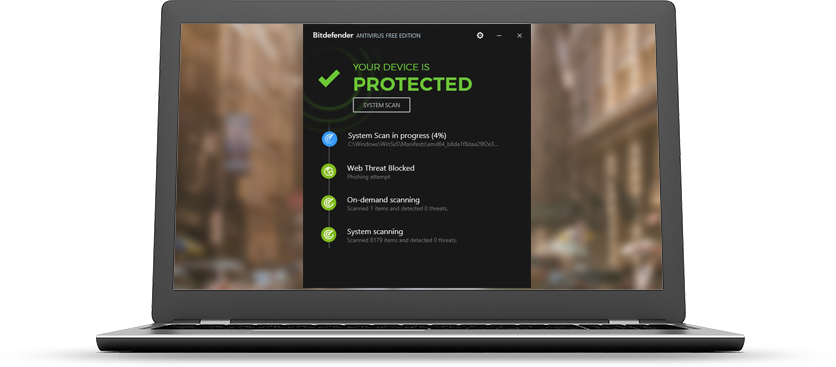 Live YourDigital lifeat Full Speed
We know speed and performance are vital, so we engineered our free antivirus solution
to be light on system resources.

Ottieni tutti i vantaggi della pluripremiata sicurezza di Bitdefender in Windows 10
Caratteristiche
Scansione e rimozione virus

On-demand & on-access scanning - powerful scan engines ensure detection and removal of all viruses.

Active Threat Control

Bitdefender Antivirus Free uses an innovative technique called behavioral detection to closely monitor your active apps. When it detects anything suspicious, it takes instant action.

Antiphishing

Bitdefender Antivirus Free sniffs and blocks websites that masquerade as trustworthy in order to steal financial data such as passwords or credit card numbers.

Antifrode

Il nostro sistema avanzato di filtraggio ti avvisa ogni volta che dovessi visitare siti web che potrebbero tentare di truffarti, tramite casinò online, siti pornografici, programmi di prestiti e altri.
Requisiti di sistema
- Sistema operativo: Windows 7 Service Pack 1, Windows 8, Windows 8.1, Windows 10
- Spazio su disco rigido: 2 GB di spazio libero (almeno 800 MB sull'unità del sistema)
- Memoria (RAM): 1,5 GB
- Intel CORE Duo (2 GHz) o processore equivalente
- Requisiti software: Internet Explorer 10 o superiore
Copyright © 1997-2017 Bitdefender
Tutti i diritti riservati.