Ottieni il miglior antivirus gratuito per tutti i tuoi dispositivi
Bitdefender
Antivirus Free Edition
Una protezione potente ma leggera
Rendiamo più sicura Internet. Navigando nel web, avrai la certezza
che ci occuperemo di ogni minaccia. Utilizziamo tecnologie
avanzate, come l'apprendimento automatico, per proteggerti
da tentativi di phishing e altri contenuti dannosi.
Scarica subito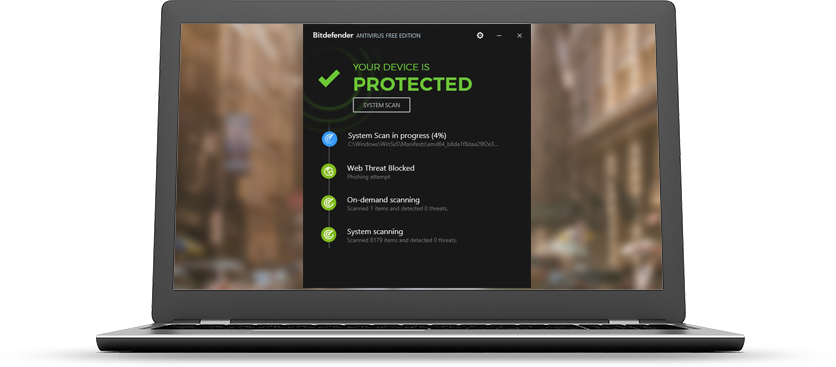 "I laboratori hanno già evidenziato molto chiaramente che Bitdefenderè il vincitore."
PC MAG, Dicembre 2016
Caratteristiche
Scansione e rimozione virus

On-demand & on-access scanning - powerful scan engines ensure detection and removal of all malware, from viruses, worms and Trojans, to ransomware, zero-day exploits, rootkits and spyware.

Advanced Threat Detection

Bitdefender Antivirus Free utilizza una tecnica innovativa chiamata rilevamento comportamentale per monitorare attentamente le tue applicazioni attive. Quando rileva qualcosa di sospetto, interviene immediatamente.

Antiphishing

Bitdefender Antivirus Free Edition rileva e blocca siti web mascherati da pagine affidabili per sottrarre dati finanziari, come password o numeri di carta di credito.

Antifrode

Il nostro sistema avanzato di filtraggio ti avvisa ogni volta che dovessi visitare siti web che potrebbero tentare di truffarti, tramite casinò online, siti pornografici, programmi di prestiti e altri.
Requisiti di sistema
- Sistema operativo: Windows 7 Service Pack 1, Windows 8, Windows 8.1, Windows 10
- Spazio su disco rigido: 2 GB di spazio libero (almeno 800 MB sull'unità del sistema)
- Memoria (RAM): 1,5 GB
- Intel CORE Duo (2 GHz) o processore equivalente
- Requisiti software: Internet Explorer 10 o superiore